High White Sun!

Jul 04, 2017

Blogging
,
Featured
,
The Business
I'm thrilled to release the jacket copy for High White Sun…In this fiery and violent new sequel to The Far Empty, even though Sheriff Ross is dead and gone, outlaws still walk free, peace comes at a price, and redemption remains hard to find. Some things in the Big Bend never change.
Sometimes we have to be wolves . . .
In the wake of Sheriff Stanford Ross's death, former deputy Chris Cherry—now Sheriff Cherry—is the new "law" in Big Bend County, yet he still struggles to escape the long, dark shadow of that infamous lawman. As Chris tries to remake and modernize his corrupt department, bringing in new deputies, including young America Reynosa and Ben Harper—a hard-edged veteran homicide detective now lured out of retirement—he finds himself constantly staring down a town unwilling to change, friends and enemies unable to let go of the past, and the harsh limits of his badge.
But it's only when a local Rio Grande guide is brutally and inexplicably murdered, and America and Ben's ongoing investigation is swept aside by a secretive federal agent, that the novice sheriff truly understands just how tenuous his hold on that badge really is. And as other new threats rise right along with the unforgiving West Texas sun, nothing can prepare Chris for the high cost of crossing dangerous men such as John Wesley Earl, a high-ranking member of the Aryan Brotherhood of Texas and the patriarch of a murderous clan that's descended on Chris's hometown of Murfee; or Thurman Flowers, a part-time pastor and full-time white supremacist hell-bent on founding his violent Church of Purity in the very heart of the Big Bend.
Before long, Chris, America, and Ben are outmaneuvered, outnumbered, and outgunned—inexorably drawn into a nearly twenty-year vendetta that began with a murdered Texas Ranger on a dusty highway outside of Sweetwater, and that can only end with fire, blood, and bullets in Murfee's own sun-scorched streets . . .
Welcome back to the Big Bend . . .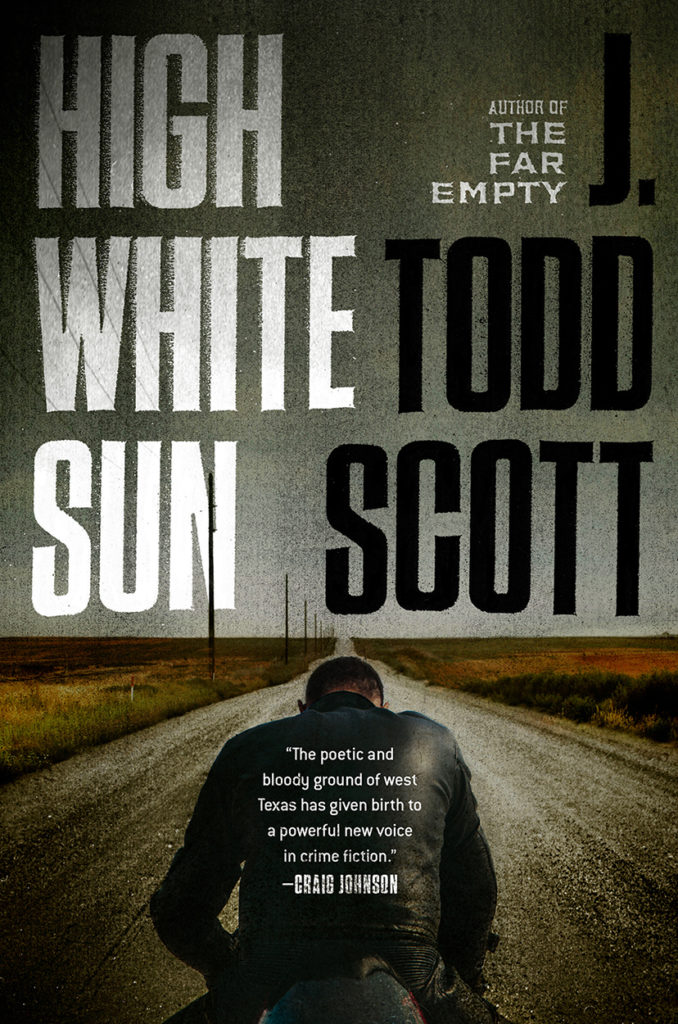 As usual, I'm always surprised when these things suddenly appear out in the wild, and I'll have plenty more to say about this book in the coming months. It's a (version) of a story I wanted to tell for a long, long, time, and for a hundred reasons, the Big Bend ended up being the perfect place to tell it.
One immediate change you'll notice is the cover – it's quite a bit different than the look for The Far Empty, which also changed for the paperback edition. It's all part of a move by Putnam to change the overall tone and feel of the series – grittier, darker; more "crime" than "western." I loved the original look, but I think this is tremendous. There may be a tweak or two to this cover before final publication – blurbs are still coming in – but I think it's otherwise set.
It's great. And speaking of blurbs:
Praise for High White Sun

"High White Sun is a striking novel from one of the most formidable crime writers working today.  J. Todd Scott captures the rough beauty of Big Bend, Texas, and the even rougher men and women living on both sides of the law.  Whispers of Winslow and McCarthy sound across these pages, but the determining voice is all Scott's – specific, lyrical and keen to time and place.  This is an authentic contemporary Western in the best sense of the words."—T. Jefferson Parker, author of The Room of White Fire

So, more coming (including a refresh of the website to reflect the new book), but like the jacket copy says:
Welcome back to the Big Bend…

3 comments
Leave a Reply