Seven for '17

Dec 12, 2017

Featured
,
Reading
,
Reviews
,
The Business
,
Uncategorized
,
Writing
There are a ton of "Best of Books 2017" lists right now…
This isn't one of those! You're not going to find the usual suspects here: Don Winslow's The Force or Attica Locke's Bluebird Bluebird or George Saunders' Lincoln in the Bardo (all absolutely fantastic books). Instead, I've listed here a few novels that I read during 2017 that I thought were pretty damn good that may have flown under your radar. I read widely, with little regard for "genre," and that's what's presented here – just a collection of good, well-written stories that stuck with me. In truth, this list is hardly comprehensive – there are probably a dozen more I could have mentioned, like Harry Hunsicker's The Devil's Country, Blue Light Yokohama by Nicholas Obregon or Blame by Jeff Abbott (although all of Jeff's books get plenty of buzz, so they're hardly "under the radar."). As well as a whole bunch of up and coming authors who deserve your time and attention, many of whom have been recommended to me by other authors.
Similarly, there are some great indie or small press publishers out there (particularly in the crime/suspense/mystery universe) with really exciting lists. Check out Polis Books, Brash Books, Poisoned Pen Press, and Midnight Ink – again, just to name a few.
As much as we authors/writers like to talk about out our own stuff, it's important to acknowledge and support the work being done by our peers. Great books make me want to write better books – to art harder, as Chuck Wendig says – and that's the best compliment I can give.
Happy Holidays – JTS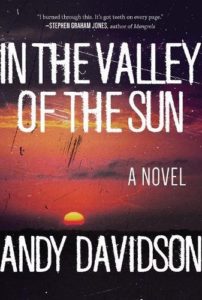 In the Valley of the Sun by Andy Davison. A passion project of mine has been "re-booting" the 1987 movie Kathyrn Bigelow movie "Near Dark" – vampires and cowboys in West Texas (Hollywood, if you're reading this, give me a crack at a new screenplay). I've also tossed around a few ideas about pursuing a similar novel-length work. Now I don't have to. Davison's book checks all the boxes. A great piece of Western vampire noir; all blood and dust and sun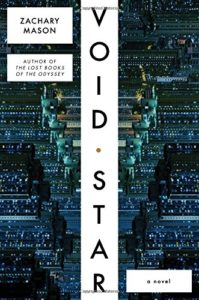 Void Star by Zachary Mason. William Gibson remains one of my all-time favorite authors (it blows me away that we share the same publisher). Neuromancer and the subsequent books in the "Sprawl" trilogy were tremendous influences on me. Void Star is like seeing those seminal Gibson works though a whole new prism. Loved it…and I wish I could write like that.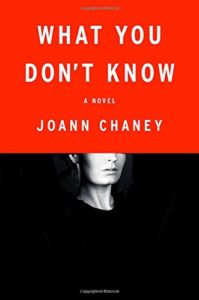 What You Don't Know by JoAnn Chaney. A creepy, dark-hearted book about a horrible serial killer, a damaged cop, and everyone in their orbit. I'm still not sure it works on every level, but it sure does work on enough of them. It sticks with you when you're done.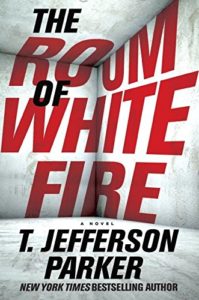 The Room of White Fire by T. Jefferson Parker. TJ Parker has written lots of successful books, but this new series launch about PI Roland Ford is great. It deals with some tough, topical stuff – enhanced interrogation and secret prisons – but it does it in a sensitive, lyrical manner. Looking forward to the next one.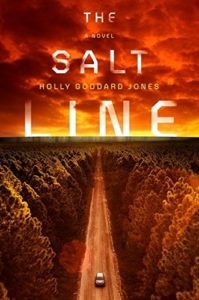 The Salt Line by Holly Goddard Jones. A great piece of dystopian fiction. Not easy to describe, and doing so undermines some of the twists. Immensely creative. I also think it has a great, great cover.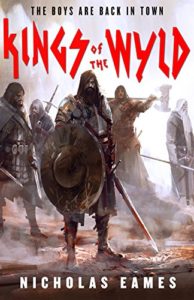 Kings of the Wyld by Nicholas Eames. If fantasy of any stripe isn't your thing, then give this one a pass. If satirical fantasy doesn't strike a chord with you, then this won't. I used to read a ton of fantasy, and although I've never been a big "humor" guy (and can't write it myself), I found the way this book gently skewers all the fantasy tropes and does it with warmth and sincerity. It's completely winning, and the riff on the whole idea of "adventuring band" is inspired. It made me laugh out loud, and that's hard to do.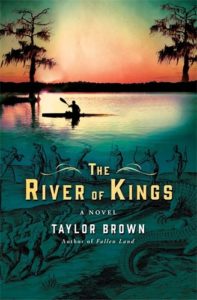 The River of Kings by Taylor Brown. I'm a huge fan of Brown's work. He's a beautiful writer, with an eye for a great image and an ear for how to evoke it with a few simple phrases. The River of Kings masterfully weaves back and forth in time. It's both a history lesson and ostensibly a novel about two brothers, and so much more than that. Brown's Fallen Land, from last year, is another wonderful book.

Comment
Leave a Reply